Canvas is one of the leading course management systems. Its effectiveness in supporting online learning is the reason behind its rising popularity.
Through Canvas, instructors can post assignments, grades, and important information online. Universities and colleges all over the world use it to create online courses.
It is simply a replacement for the normal time that is spent in a traditional classroom arrangement. 
Can Canvas Detect Cheating?
Canvas can detect cheating but not all the time. Teachers can see if you upload any material that portrays academic dishonesty. For instance, they can see if your work is a duplicate of others or if there is plagiarism.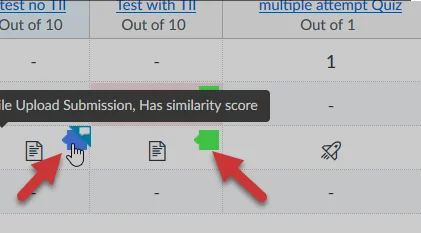 Moreover, Canvas has a quiz log section that flags the instructor when there is cheating.

Upon submission of your work, there are plagiarism checking tools like Turnitin that will detect if the work is original or not. 
In simple terms, you will be flagged if your answers or the essay you upload violates the academic honesty policies of your institution.
The ability of Canvas to detect cheating is what makes it a reliable online education management system. 
However, in cases where there is no integration with other software, it will be difficult for Canvas to detect cheating. For instance, Canvas will not be able to monitor exam takers in the absence of proctor software.
This will make it easy for exam cheaters to get away because there will be no checking of videos from the webcam. Therefore, there will be no data collection for reviewing purposes. 
Another fact is that the tool cannot detect duplicate content on its own. For credibility purposes, essays need to be checked for plagiarism and Canvas can only achieve this in the presence of a plagiarism checker.
Turnitin is the most reliable plagiarism checker that Canvas uses. Through the Turnitin originality report, it is easy to tell when a student uploads plagiarized content. 
In addition, Canvas will not be able to detect and track tab movements if there are no lockdown browsers. This makes it possible for students to switch to different tabs and look for answers.
Instructors will find it difficult to detect suspicious behavior when the exam is taking place. In short, Canvas can detect cheating but not on its own. It has to incorporate other software to enhance cheating detection. 
How Does Canvas Detect Cheating?
Canvas works with other software to detect if students are cheating in exams. The following are ways this learning management platform detects cheating: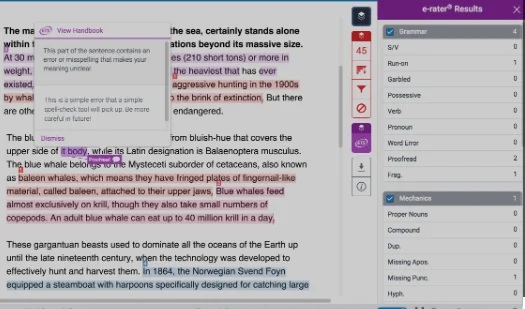 1. Canvas Quiz Log
With the Quiz log, it becomes difficult for a student to cheat. Teachers and instructors will be able to view ongoing assessments effectively.
They can see when students key in answers to a question. The quiz log also reveals if a student is inactive for a while.
In case an exam taker changes to a new tab on the browser, the Quiz log will immediately notify the instructor. At this point, any students to search for answers elsewhere will be flagged for cheating. 
2. Proctored Tests
Through the use of neutral invigilators called proctors, it is easy to monitor all the activities of a student. The assessment test taking place is under the supervision of a proctor.
In the first place, the proctor identifies if the person taking the exam is the right one. The proctor also checks if the test environment is in line with the regulations of the faculty. 
Canvas achieves effective proctoring through integration with other proctoring software. The software records data of the events happening and reviews to identify any form of inconsistencies.
In this way, exams are monitored and the identification of irregularities during the test becomes easier. 
3. Checking for plagiarism with Turnitin
Turnitin is one of the most reliable plagiarism checking tools. Canvas can detect plagiarism through integration with this tool. For the cases of essay submission, Canvas can detect the originality of texts and know if the student has submitted duplicate content.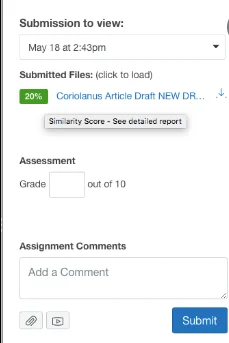 With its wide database, Turnitin compares the student's work with a variety of sources. The software covers journals, books, and online materials.
With the use of this plagiarism checking software, instructors can find duplicate content when students submit assignments. It then generates an originality report that instructors can access on Canvas.
Afterward, instructors can check exams on multiple due dates, group assignments, and any other form of cheating. 
4. Lockdown Browsers
Lockdown browsers can easily detect quiz cheating on Canvas. This is how teachers can know if there is unnecessary movement or activities when the exam is in progress.
Immediately after students embark on a test, the Lockdown browser locks everything so that students cannot move to another source to look for answers.
The online test will progress successfully until students submit their assignments. 
Students will not be able to visit other apps or websites to look for answers. Equally, they will not be able to print or copy any material as long as the exam is ongoing.
The browser has what it takes to flag any suspicious behavior that can amount to exam malpractice.
5. Randomizing Questions
With Canvas, instructors can avoid giving students the same questions which makes it easy for them to cheat. Instead, they can randomize these questions so that students don't tackle the same questions at the same time. 
Besides, instructors have the added advantage of creating question groups that have a variety of questions. Canvas will then select these questions randomly and distribute them to the exam takers. As a result, it becomes possible to minimize the possibility of students cheating.
Can Canvas Detect the Following?
Open other tabs

If you switch tabs, Canvas can detect this move. The use of the Lockdown browser can flag the student if he or she moves to a different tab on the browser.
What's more, the instructor can also know if there is no activity on the student's page. 
It is also possible to know if the student switches to another tab that has a different style of font. The log will alert the teacher that a student has left the exam tab to another one, probably in search of answers.
Nonetheless, it is crucial to know that Canvas cannot achieve this on its own without the Lockdown browser as well as Webcams.
Copy Pasting
Canvas can detect copy-pasting activities when students are taking their exams. Through the Turnitin plagiarism checker, instructors can compare the students' submissions with other files in the scanner's database.
If there is any form of copying, the content will be flagged for plagiarism. 
Under similar circumstances, Canvas uses reliable Lockdown browsers such as Respondus to block copy-pasting activities. Thereupon, it becomes difficult for students to cheat by uploading unoriginal content.
Friends Assist You
Friends trying to assist the exam taker will not be a possible cheating tactic when Canvas is in use. The software has online exam proctoring through the use of tools such as webcams.
If there is a different person in the exam room, Canvas will notify the instructor. 
Mobile Phone
Through the use of Webcams, online proctoring is possible when students are taking their exams.
The webcams will monitor the surroundings where the test is taking place. Resultantly, students trying to use their mobile phones will be flagged for cheating. 
Split Screen
Under normal circumstances, it will not be possible for Canvas to detect split screens especially when students are using normal browsers. Beyond the exam page, the system will not be able to detect any split-screen actions by the students.
Nevertheless, Canvas cannot only detect but also prevent split-screen through the use of proctoring software.